Monthly Archives:
May 2021
Hello Grade 3's
I hope everyone is doing well. The work packet that went out early is optional. It will not be collected. This is a compilation of some of the concepts that we have been learning. If you are feeling up to doing it then enjoy!
Covid has been a little more complicated at the VanLeeuwen house because of my underlying health conditions. I have MS which has lengthened the quarantine period not only for me but my family. My quarantine is 20 days which will allow for me to be back at school on June 4th. The lovely Mrs. Milec will be covering my class for the additional week I will be away.
I am really looking forward to being back at school and I miss all of the students so much! I will be praying for all of you and look forward to seeing you soon!
Good morning Grade 3 family,
I hope everyone had a chance to join in on the meeting with Mr. Morris last night. I would just like to say that I am praying for all of you to stay healthy. I have tested positive but am on the mend, Praise the Lord.
As Mr. Morris stated last night we are all winding down with there only being one month of school left so thankfully we have covered almost all of the curriculum. I am so grateful that if something like this was to happen, it happened when academically we are in a much better place.
Here are some of the things you can work on with your kids while isolating at home.
Math:
In Math we have been working on Fractions, multiplication, and division review. For grade 3 they are expected to know basic concepts such as what is a half, third, and quarter. They have already been taught this as well as how to add and subtract fractions with the same denominator.
Students know the concepts of multiplication and divisions and are working towards memorizing their facts.
We have just started 2D and 3D shapes, having a shape hunt around the house is one way to solidify their knowledge. We left off talking about angles in chapel (right, acute, and obtuse).
Language Arts:
In Language Arts we have been working on story writing. The students have been working on writing their own stories and have done a remarkable job with this. Please have your child continue writing fictional stories, focussing on character, setting, problem, solution.
Story jumper is a wonderful story writing site that is free.
Please continue to read for at least 30minutes a day. This is crucial for success. If you are looking for reading material you can log on to Epic during school hours using our class code.
Class Code: YSE2902
Also the library has a few free apps (Libby, Overdrive, RB digital)
Science:
In Science we have been learning about ecosystems and abiotic (non living) and biotic (living) features of ecosystems. If you go on a walk you can point out the living and non living things you see in a particular ecosystem.
Great YouTube videos about science are crash course kids, scishow kids, Bill Nye, and Mark Rober.
Students were also working on insect reports, they can do research on their chosen insect.
Social Studies
In Socials we have been learning about Idigenous communities around the world (Polynesian, Maori, Quechua, Bushmen of Southern Africa, Swahili, and Aboriginal Australians). Students can do research on these Indigenous groups.
If you have any questions or concerns please reach out to me avanleeuwen@highroadacademy.com
I will continue to blog so stay tuned.
Links
Trust in the Lord with all your heart and lean not on your own understanding, in all your ways acknowledge Him and He will direct your paths" (Proverbs 3: 5-6).
Hello Grade 3's and parents. I just want to let you know I am praying for all of you and thinking of all of you.
I also wanted to remind parents of the parent zoom meeting tonight. The link should be in your emails.
I will follow up after the zoom meeting.
Grace and peace to you all.
Angela VanLeeuwen
Dear Parents,
As you know from Tuesday's communication, there was a positive covid case in one of the Grade 3 classrooms. Both classes received notifications to self-monitor, as they are part of the same cohort. Today, the parents of two students informed the school that their children had also tested positive. I haven't received any written notifications from Fraser Health at this point, but I feel it's important that this information go out to you. Without direction from the health authority at this point, I'm feeling uneasy about tomorrow. I'm extremely reluctant to do this, but out of an abundance of caution for our students, I'm suggesting you keep your grade 3 students at home on Friday. As soon as I receive any information or directives, I will pass them on to you. It would be very helpful if you could call into the office (604 792-4680) in the morning, if your decision is the keep your student home. For those of you who decide to send your students, we will have staff to run the classes. Thanks, in advance, for your support in this particular matter. Blessings,
We had a gorgeous day to spend at the Blue Heron Nature Reserve today. I think you will be pleased with how tired, and how well your children will sleep tonight! We walked….a lot. We were so lucky to see so many eagles, herons, fish, and other wonderful creatures. Here are a few shots of some of the fun we had today.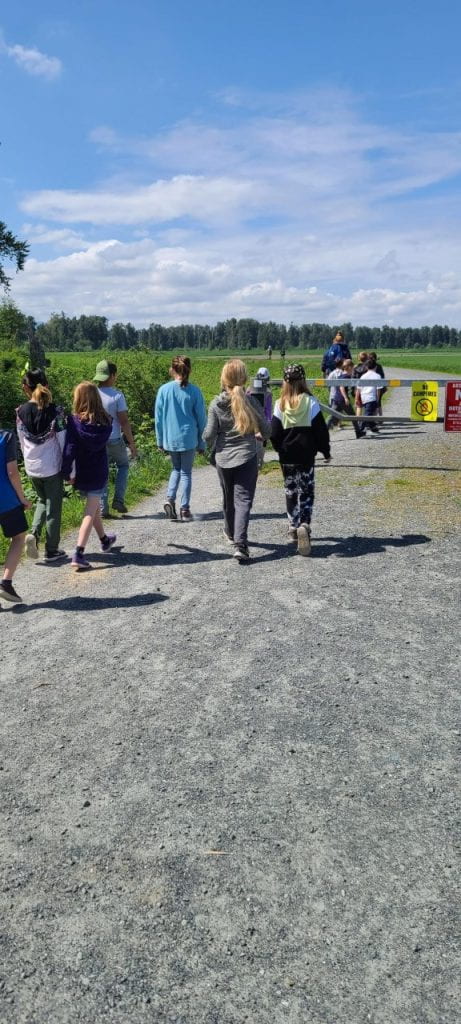 I am so excited to be taking the class on a field trip today! Please remember to dress appropriately, the weather is supposed to be very nice.
Today we had a math quiz on fractions. Their quiz will be coming home today, could you please sign their quiz and return it to me.